Lincoln Continental Concept: The Future of Lincoln Design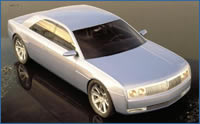 LOS ANGELES, Jan. 3, 2002 – The Lincoln Continental concept, the ultimate expression of American Luxury and the culmination of nearly two years of research and development, was unveiled today at the Los Angeles Auto Show by Lincoln Mercury President Brian Kelley and Design Director Gerry McGovern.
Continental is a powerful but understated executive car with unique proportions that optimize space for the elegant, sophisticated and supremely comfortable interior. The design embraces features from Lincoln's past, such as center opening doors, but the execution is thoroughly modern.
"This is a pivotal year in Lincoln's long-term growth strategy," Kelley says. "We are launching three new products this summer to build on our strong foundation, and we are presenting the Continental to show where we will take the brand in the near future."
The new Lincolns are the 2003 Town Car, Navigator and Aviator. The first generation of vehicles to embrace the Continental's design philosophy will debut mid-decade.
"Continental embodies the qualities that define the design direction Lincoln has chosen: elegance, simplicity, precision and an overall restraint," McGovern says. "Someday, a flagship like Continental could join Lincoln's showroom," he adds. "But the emphasis on package efficiency, the approach to surface development and detailing, and certain Continental design cues absolutely will see production."
A Unique Proportion
Two important goals of the Lincoln design team were to maximize interior space and optimize ingress and egress. This led to the creation of a unique proportion, in which the Continental's cabin is centered within the wheelbase. The passenger space is exceptionally large, the trunk is cavernous, and a powerful 6.0-liter V-12 engine resides under the hood.
"The Continental is lithe and alive, but simplicity and elegance define the design," McGovern says.
The Continental's bodywork is finished in a color called Silver Sea Spray. Its surfaces are clean and uninterrupted, and a strong horizontal emphasis defines the front of the car. A signature Lincoln grille milled from aluminum incorporates four round headlamps that use an innovative remote light generator technology developed by Ford Motor Company in partnership with Philips Lighting.

In this system, light generated by a single source is transferred to each lamp by fiber optic cable. The technology requires less power than conventional halogen bulbs but produces two and a half times more light. Glare is reduced substantially because light dispersion is well controlled and the beam can be aimed precisely.
The outer edges of the hood rise slightly to meet chrome bodyside finishers that are applied with absolute precision. The sheer bodysides provide weight and strength and are interrupted only by subtly flared arches that wrap around 22-inch polished aluminum wheels and Continental tires. The elegant chrome finishers accentuate the car's length to add tension to the bodysides.
The Continental's horizontal emphasis continues at the rear of the car. A Lincoln star badge divides large LED lamps. The rectangular exhaust tips integrated into the valence subtly suggest that the Continental is powerful and capable.
An Uncompromised Executive Car
"In an executive car, there are inviolable principles," McGovern says. "The vehicle must be engaging for the driver, supremely comfortable for everyone, and the car should do the work for you. Above all, space must be used efficiently and ingress and egress must never be compromised."
The Continental presents several innovative solutions:
The powered center-opening doors are triggered by remote or simply by a touch of the flush aluminum door "handles."

The Continental's doors operate independently and with both doors open, the pillarless aperture is almost six feet wide. All this is made possible by articulating hinges that open to 90 degrees and a ring frame that adds structural rigidity along the A-pillar, rear roof pillar, sill and roof rails.

Indirect fiber optic lighting in each door panel and headliner sets the cabin's mood.
The rear roof pillar is precisely angled to provide the utmost privacy to rear seat passengers while still affording them a panoramic view out.

The hydraulically powered decklid traces a parallelogram as it opens to maintain its horizontal orientation. This feature keeps the rear lamps visible at all times and allows for easy access to three sliding storage drawers fitted in the 20.5 cubic foot (580-liter) trunk.

A large luggage tray slides out of the trunk by remote control to present Zero Halliburton luggage and golf club cases.

The Continental's full-width instrument panel is built around reconfigurable displays for engine functions and vehicle systems, including concierge and telematics features, navigation and the THX-certified audio system. The chaplets that ring the speedometer and other gauges displays are fixed to the glass for a jewel-like effect.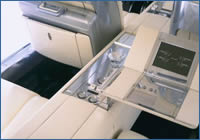 The concierge service allows passengers to check the weather, make restaurant reservations, seek route assistance or get personalized financial market updates. The telephone functions are hands-free. A mouse built into the console is used to navigate the displays.
The display system's sharply defined images are created by Organic Light Emitting Diode technology (OLED), developed for the car in partnership with Pioneer Electronics Corporation. The heart of OLED technology is a light emitting polymer film. Current is passed through the film by a matrix of electrodes to illuminate individual pixels, which can display in green, blue, orange and yellow.
System response time is very fast, so displays can be changed quickly. Other benefits of OLED include high visibility even in direct sunlight, a wide viewing angle up to 160 degrees and low power consumption. It is mercury-free.
In addition to the mouse, the center console also houses controls for the window lifts, power door openers and other functions. The upper section is for audio controls. The large central knob adjusts volume and the four small buttons select the source – AM/FM radio, compact disc or digital video disc. The central section is for the dual-zone climate control. The rear compartment has its own dedicated dual-zone climate and audio controls.
Comfort and Sophistication
The headliner and the Eames lounge chair-inspired seats are covered in full-grain aniline leather dyed a creamy hue called Rhode Island Sand. A translucent silk panel shades the overhead fiber optic light strip. The flooring is a close-sheared midnight blue sheepskin. The instrument panel and doors are trimmed in a combination of Rhode Island Sand and Midnight Blue leather. The dark leather helps mask the transition to the window glass.
Front and rear seat roominess is designed to be exceptional. The front seats are adjustable for height and rake, and have fore and aft travel of 10 inches (250 millimeters). The rear seating area could easily serve as the model for a corporate jet. The seats adjust fore and aft across a range of eight inches (200 millimeters) and can be reconfigured into a bed by folding down the center portion of the front seat back. The rear seat cushions also incorporate a tilt function to aid ingress and egress.
Built-in laptop tables stow in the console. The case holders built into the front seat backs fold down to allow an attaché to be opened without removing it from the sleeve.
A cabinet between the rear seats houses crystal and a drinks dispenser. Each rear door has a large umbrella holder and compartments that can be personalized. The Continental, for example, is fitted with cigar humidors.
The Culmination of a Two-Year Search
Research and development of the Lincoln Continental concept began in early 2000, shortly after dedicated Lincoln design, engineering and manufacturing organizations were established. The Lincoln design team began by exploring Lincoln's heritage.
"Between the 1940s and the 1960s, Lincoln Continentals were about beautiful proportions, elegance, sophistication and restraint. These all are qualities that are relevant today," McGovern says. "As Le Corbusier said, 'some pasts are the liveliest instigators of the present and the best springboards into the future.' That's an apt description of the role Lincoln's heritage played in the development of Lincoln's new design philosophy."
The exploration continued with the Lincoln MK 9 coupe, which was unveiled at the 2001 New York Auto Show. The MK 9 was developed concurrently with the Continental to demonstrate that the new design philosophy could be applied to different types of vehicles.
"The MK 9 is overtly sporty and the Continental is formal but both are bound together by Lincoln design cues, a common approach to surface development and an absolute obsession with precision," McGovern says. "These two concepts, as well as the work we have done in-studio with sport utilities and other types of vehicles, have convinced us that our design philosophy is 'stretchable,' and that we have completed our roadmap for the future."
# # #
Lincoln Continental Concept Technical Specifications (Metric and English)
General
Four passenger, four door sedan with independent power-actuated center-opening doors
6.0-liter V-12 engine, 309 Kw (414 hp) @ 6,000 rpm, 560 Nm torque (413 lbs.-ft) @ 5,270 rpm
Six-speed automatic transmission; rear wheel drive
Chassis
Aluminum and composite body-on-frame construction with composite outer skin
Multi-link four-wheel independent suspension with driver-selectable electronic damping
Variable assist, speed-sensitive four-wheel steering system
Four-wheel anti-lock disc brake system with six-piston front and four-piston rear calipers; electronically-actuated parking brake
Vented brake rotors
Front, 405 mm / 16"
Rear, 395 mm / 15.5"

Wheel and tire size
Front, 22"x9" Continental P275/45R22
Rear, 22"x10" Continental P295/40R22
Dimensions
Length
5,444 mm / 214"
Width
1,950 mm / 76.7"
Height
1,500 mm / 59"

Wheelbase
3,470 mm / 136.6"
Front track
1,675 mm / 66"
Rear track
1,655 mm / 65"
Package
Front door aperture (rear door closed)
965 mm / 38"
Rear door aperture (front door closed)
806 mm / 32"
Total door aperture (both doors open)
1,767 mm / 69.6"
Occupant couple distance
1,150 mm / 45.3"
Front seat legroom
1049 mm / 41.3"
Hip room
1458 mm / 57.4"
Headroom
1,025 mm / 40.3"
Shoulder room
1,573 mm / 62"
Rear seat leg room
981 mm / 38.6"
Hip room
1,458 mm / 57.4"
Headroom
984 mm / 38.7"
Shoulder room
1,573 mm / 62"
Trunk volume
580 liters / 20.5 cu.ft
Sliding luggage track range
350 mm / 14"
Safety and Security
Global Vehicle Theft Location System
Remote Keyless Entry System
Seat-integrated three-point safety belts
Dual-stage front airbags
Side curtain airbags and seat-mounted side airbags
Tire pressure monitoring
Although New-Cars.com checks with auto manufacturers and their representatives to confirm the accuracy of the data, it makes no guarantee or warranty, either expressed or implied with respect to the data presented here. All specifications, prices and equipment are subject to change without notice.
Copyright © 2002 New-Cars.com