Chapter 1: Smart Vehicle Shopping: A Step-By Step Guide
This chapter contains a quick reference guide in the form of bulleted lists that cover the important points to remember when you: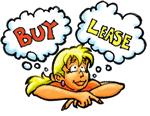 There are key questions you should answer when deciding between buying and leasing.

How often do you replace your vehicle?

Do you want to drive a better vehicle than you can afford to buy?

How much do you enjoy buying, trading and selling vehicles?

How much do you have for a down payment?

What is your annual mileage?

How well do you take care of your vehicle?

Will you use the vehicle for business or pleasure?
Consider leasing:
Consider Leasing:

If you like to replace your vehicle every four years or less.

If you want to have lower monthly payments for a more expensive vehicle than you would pay to purchase that same car.

If you are not comfortable striking deals for trade-in, sale or purchase of a vehicle.

If you want to avoid high initial costs when purchasing a vehicle.

If your mileage is under 20,000km per year.

If you take good care to maintain your vehicles and can avoid scrapes and bumps in the course of regular usage.

If you plan to us the vehicle for business so that tax deductions become a factor.

Consider buying:
If you like to hold on to a vehicle for five years or more.

If you are comfortable striking deals for trade-in, sale or purchase of a vehicle.

If you can afford to cover the higher initial costs of a purchase or financing deal.

If your mileage is more than 20,000 km per year.

If it is important to you to own your vehicle outright, fix it or maintain it yourself and keep it in the condition you want.


Count the costs
Know the cost of financing precisely and don't let that it become intertwined with the price of the vehicle.

Consider the tax benefits of leasing for business vehicles.

With an owned vehicle, the deduction is a function of depreciation and it may be less overall than with a leased vehicle because of a limit on total amount you can deduct.
Note: It is important to review the current tax rules specific to your business and location regarding deductions for business vehicles.
Consider the potentially significant impact vehicle choice can have on your insurance rates due to differences in safety and theft ratings.

Protect yourself with gap insurance coverage for a leased vehicle. Gap insurance is often obtainable as a dealer add-on and it will cover the full cost of the balance of the lease that you owe in the event of total loss due to theft or damage.

Remember that monthly insurance payments cost extra.

All vehicles cost money to maintain properly and this is a substantial factor to consider.

Repairs are a substantial expense that should be accounted for in the car buyer's annual vehicle budget. This cost can be affected by a couple of factors, warranty and vehicle choice.

Depreciation is a factor if you lease a vehicle or if you buy new with the intention of selling within four years.


TIP: When dealers compete for your business - You Save!
Compare dealer prices from multiple discount dealers in your area using Edmunds.
With multiple price quotes you'll be able to get the best deal on the vehicle you want.
It's the fast, easy and headache free way to shop!