Ford Looks to the Future in Project Go Mobility Expedition Concept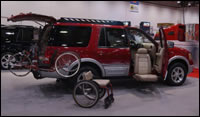 Los Angeles, CA, Jan 02, 2003 -- The 2003 Project Go Mobility Eddie Bauer Expedition puts adventurous people with disabilities into the driver's seat for a "No Boundaries" advanced technology experience.
At this year's Los Angeles Auto Show, Ford will display a customized Eddie Bauer Expedition that demonstrates that mobility enhancements have arrived in one of the hottest and most successful SUVs in the market. Ford's Mobility Motoring Program and Intelligent Transportation Systems Team worked with Ride-Rite® Division, a part of BFS Diversified, and Bruno® Independent Living Aids, Inc. to create the Project Go Mobility Expedition, which has state-of the-art technology and serious off-road appeal.
The Project Go Mobility Expedition provides a glimpse of future technologies that could help all drivers to increase security on the road. The all-new 2004 Mercury Monterey minivan, for example, will feature elements of next-generation technologies, including front and rear object sensing.
The Project Go Expedition exterior features include:
A next-generation positional backup camera aid that provides enhanced visibility while in reverse.

Ride-Rite® IntelliRide air springs with three levels to optimize vehicle height for different conditions including: a lowered position for easier ingress and egress at rest, a middle range for optimal performance on the street and 2-inch increase in ride height for improved off-road capability.

Rostra Front Obstacle Sensing System (ROSS) employs a microwave-based technology with both audible and visual indicators when the vehicle is approaching an object.

SmarTire™ Wireless Pressure Monitoring System gives the driver tire pressure and temperature information for each wheel and tire assembly. An audible and visual alarm alerts the driver when a change in conditions is detected.

Automotive Safety Auto Parts, LLC, Safety Hot Blades wiper blades are thermostatically controlled and automatically heat when the thermometer slides below 35 degrees F.

An integrated power rear liftgate can be voice, key fob or manually activated.

Precision Coach Works paint and graphics.

Trenz Billet Grilles.

Borla® Cat-Back Exhaust System.

18-inch Colorado Custom Dacono wheels.

New Bridgestone Dueler H/P 285/60 R 18 tires offer excellent performance and handling.
Interior Features
Bluetooth™ technology allows drivers hands-free access to their Personal Digital Assistant (PDA), cell phone and other devices.

Personal Information Management (PIM) service connects to the consumer's PDA and makes the information it contains available to other systems in the vehicle.

Digital reconfigurable instrument cluster presents information to the driver seamlessly and intuitively.

A hands-free voice system provides control of the entertainment system, heating and cooling and next-generation telematics.

Redesigned center console allows the driver easy transfer from the passenger seat to the driver's seat.

Wheelchair docking center located between the rear seats provides safe storage of a wheelchair. A Polytech net secures the wheelchair in place during transport.

Trenz Billet interior and doorsills with a brushed finish from 100 percent billet aluminum.
Mobility Equipment
Industry-first Bruno Turning Automotive Seating™ (TMS) with a hand controlled pivoting and articulating passenger seat base that matches the interior. The TMS can be installed in other Ford, Lincoln and Mercury full size SUVs, pickups and full-size vans.

Bruno Curb-Sider® Super XL rear tailgate lift that allows customers to raise, lower and rotate a fully assembled mobility device from the curb side or from directly behind the SUV.

Wells-Engberg CT-100 Rotary Hand Operated Driving Controls that provide easier, less cumbersome and more convenient driving opportunities for the disabled driver.
Project Go is ready for Off-Road
Ride-Rite® remote fill station offers an on-board air source for inflating tires and other pneumatic components.

WAAG FrontRunners™ and rear bumper guards with durable five-stage powder-coated finish with mountable space for a winch and off-road lights.

WARN® 9.5ti Thermometric Winch with a pulling capacity of 9500 pounds.

KC™ fog and driving lights for improved illumination.

Noble Industries aluminum roof rack.

Optima® Yellow Top Deep Cycle Batteries allows for greater cranking capabilities at high current loads.
About Mobility Motoring
Nearly 10,000 people received benefits from Ford Mobility Motoring last year. Since its creation in 1992, the program has assisted more than 85,000 individuals and organizations with more than $72 million in reimbursement funds.
Ford Mobility Motoring provides up to $1,000 toward the cost of adaptive equipment or up to $200 on alerting devices, lumbar support or running boards when installed on new Ford, Mercury or Lincoln vehicles.
In addition to financial aid, Ford Mobility Motoring provides customers with a state-specific packet of information listing assessment centers, equipment installers and other potential sources of financial assistance, including extended vehicle financing terms through Ford Credit Mobility Financing.
For more information about Mobility Motoring please log-on to www.mobilitymotoringprogram.com or call 800.952.2248.

Although New-Cars.com checks with auto manufacturers and their representatives to confirm the accuracy of the data, it makes no guarantee or warranty, either expressed or implied with respect to the data presented here. All specifications, prices and equipment are subject to change without notice.
New-Cars.com Home - News Archives - Car Reviews - New Car Price Quote - Privacy Policy - Contact Us
Copyright © 2002 New-Cars.com