Links

2003 Toyota Prius - Review
2002 Toyota Prius - Specs
2002 Toyota Prius - Gallery
2002 Toyota Reviews
2002 Toyota Prius - Price Quote

Visit Toyota for more information on the Toyota Prius.
The first hybrid vehicle in the world to be mass-produced, the Toyota Prius Sedan represents pure technical genius and innovation. Coupled with its numerous features, benefits, and solid safety specifications, it is no wonder why it has been the recipient of multiple world-class awards since its inception.
Available Models
One four-door Prius model is on the market for 2002, and it offers incredible economy without sacrificing its accommodating and spacious interior. Its outstanding value is simply unquestionable, and it is commendable for leading the way towards more environmentally-friendly vehicles.
Interior Features
Within the five-passenger cabin of the Toyota Prius Sedan are exceptional standards such as air conditioning, power windows, power door locks, and an AM/FM stereo with cassette. The convenience of cruise control is available to you as an option. The front and rear seats are positioned high for optimum view, and the instrument panel is also set higher to allow quick and easy reading of the display.
Exterior Features
Each Toyota Prius is equipped with dual power outside mirrors, and is offered in six vibrant colors. New for 2002 are Blue Moon Pearl and Brilliant Blue Pearl to keep things current and trendy.
Performance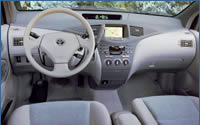 Of course, the pride of the Toyota Prius Sedan lies in its unique electric and gas hybrid engine. An all-aluminum, 1.5-litre gasoline VVT-I engine with variable valve timing produces 70 horsepower and 82 lb-ft of torque, while the electric drive motor is a permanent-magnet design with 44 horsepower.
The vehicle rolls along using the electric motor, and when you require extra juice for acceleration and higher speeds, the gas motor kicks in. When you brake, the battery is recharged; this makes the vehicle very fuel efficient in typical city driving. Additionally, the transmission is electronically controlled for a smooth blend of gasoline engine, electric generator, and electric motor for maximum efficiency. The fuel economy rating is a staggering 52/45 mpg (city/hwy) as a result.
Safety and Security
The Toyota Prius Sedan is equipped with standard safety features such as ABS brakes, three-point seatbelts at all seating positions, head restraints, driver depowered air bag, and passenger depowered air bag. Also on the list are child safety locks, child seat tethers and anchors, internal emergency trunk release, halogen headlight, side impact door beams, and front and rear crumple zones.
Side impact air bags are available as an option.
Get a Free Price Quote on a Toyota Prius.